Pumpkin seeds are actually my favorite part of fall. I don't actually enjoy shoving my hands into a hollowed out, cold, slimy pumpkin – no one does. But inside is pure gold!
From savory to sweet, we found 6 new ways to roast pumpkin seeds that will have you excited to gut them every single fall season!
The maple sugar option is a sweet alternative to the traditional, very salty, seeds we all love. They're a perfect sweet treat that are far healthier than other snacks. Pumpkin seeds contain Magnesium, Zinc, Omega-3 fats, anti-diabetic and anti-inflammatory agents.
I'm very partial to the taste of maple sugar because it's like lighting your favorite candle; it makes you feel warm and gooey instantly!
These Homemade Cinnamon Sugar Pumpkin Seeds look amazing and make a perfect mid-day snack or late night sweet treat! This recipe only has 6 ingredients, is super easy to toss together, and the result is the perfect sweet and salty fall snack!
There's something about the combination of cinnamon and sugar that really makes me feel ready to welcome fall and the chillier temps.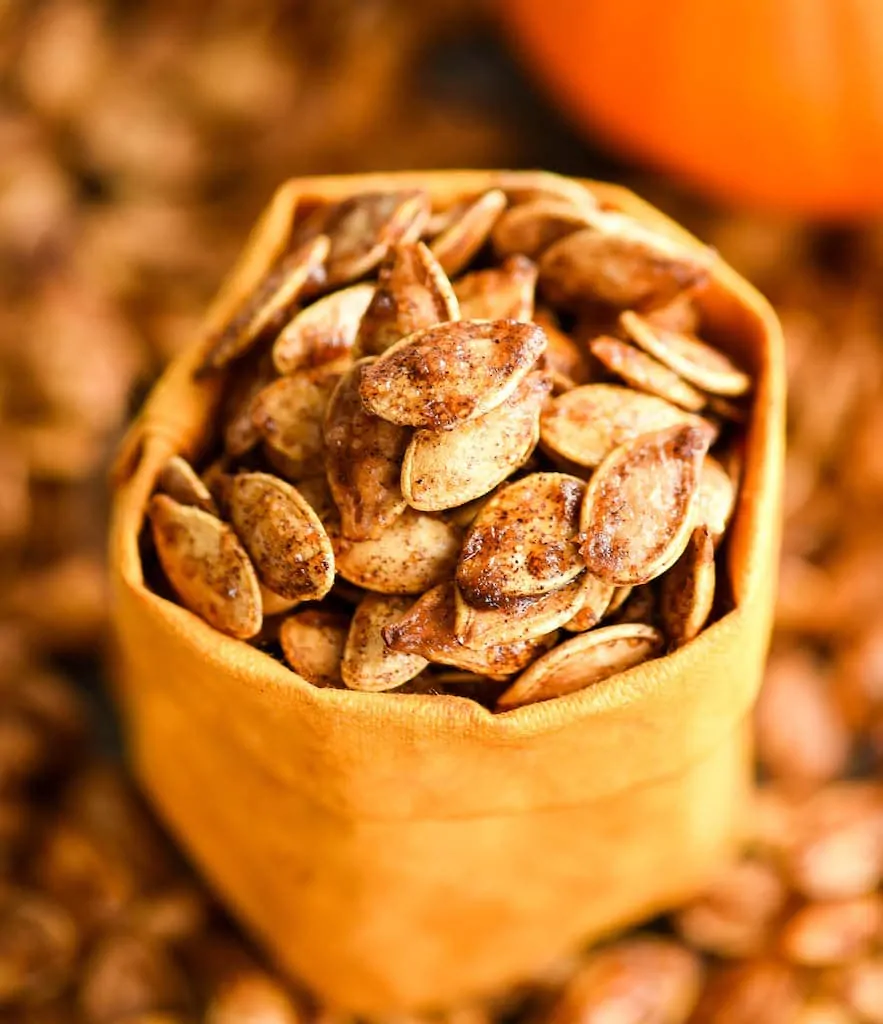 There's no such thing as "plain" roasted pumpkin seeds and these seeds are no exception. They're roasted with a bit of olive oil and a hint of garlic making them the ideal savory snack for that mid-day punch of power!
I love that the recipe uses garlic because most of my favorite pumpkin seed recipes use sweet seasonings; it's nice to have a savory option, as well!
If my mom would have made these for me when I was growing up, there wouldn't have been enough pumpkins in the world to keep my snacking satisfied! This surprising spice non traditional spice blend brings heat to crunchy seeds in a savory way that most people won't expect. She also reveals the secret for truly crunchy seeds.
What's the secret to crisp pumpkin seeds that will totally change your roasting game? Apparently, it's been in your refrigerator all along! Plus, this blogger shares ways to sweeten or make spicy your new favorite recipe for roasted pumpkin seeds.
Whether you're in the mood for sweet or savory, check out these seasoning options!
If you're already over the coconut oil trend, but you have that Costco-sized container still in your pantry, try adding these spices and making a slightly sweet treat – these Sweetly Roasted Pumpkin Seeds everyone will love!
I love the hint of sweet that this recipe adds because the flavor isn't overwhelming.